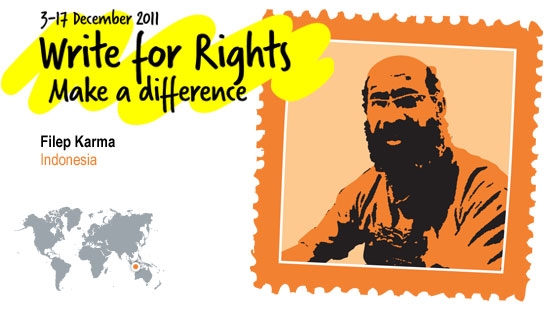 Former civil servant Filep Karma is currently serving a 15-year prison sentence after taking part in an annual ceremony where the "Morning Star" flag, a banned symbol of Papuan independence was raised. He was one of 200 people who took part in the peaceful ceremony in Abepura, Papua Province, in December 2004.

Police arrested Filep Karma at the site of the ceremony and subsequently charged him with "rebellion". In 2005 he was sentenced to 15 years' imprisonment.

Filep Karma has been offered reductions in his sentence. However he rejected these, maintaining that he should never have been imprisoned solely for the peaceful expression of his right to freedom of expression, and that to accept a pardon would compromise that principle.

Filep Karma has suffered ill-health while in detention. He has staged various protests about his and other prisoners' ill-treatment and challenged the legality of the charges against him.

Amnesty International considers him to be a prisoner of conscience and calls for his immediate and unconditional release, and the release of all other prisoners of conscience in Indonesia.

Amnesty International takes no position whatsoever on the political status of any province of Indonesia, including calls for independence. However we believe that the right to freedom of expression includes the right to peacefully advocate referendums, independence or any other political solutions that do not involve incitement to discrimination, hostility or violence.

Please sign this petition which we will send to the Indonesian Minister of Justice and Human Rights, Amir Syamsuddin.

Dear Minister,

I am deeply concerned about the ongoing criminalization of peaceful political activities in Indonesia. I urge you to:
Immediately and unconditionally release Filep Karma and all other prisoners of conscience in Indonesia
Ensure that Filep Karma's prison conditions and his treatment in detention meet standards provided for in Indonesian law as well as UN Standard Minimum Rules on the Treatment of Prisoners.
Ensure Filep Karma has access to medical treatment if he requires it and visits from his family while he is in prison