What We Do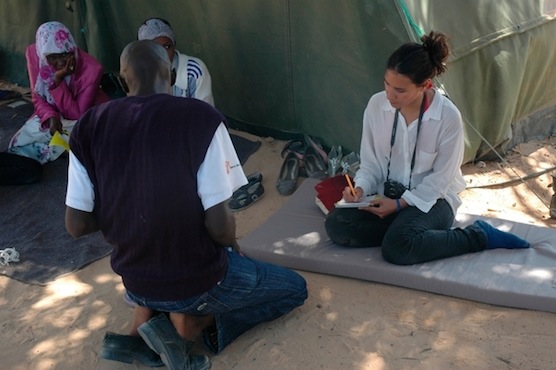 Researcher interviews refugees, Tunisia, June 2011. © Amnesty International
Every day, people around the world make the difficult decision to leave their homes and their countries. They may be fleeing war or persecution, or forced to leave because of environmental disasters or poverty. They want safety and dignity for themselves and their families. Instead, many become victims of xenophobia, discrimination and other human rights abuses.
Amnesty International works to protect the human rights of refugees, asylum-seekers and migrants through focused research, national and regional campaigning and high-level lobbying. We aim to influence international policy making and standard setting.
We also support individuals facing forcible return to a risk of human rights abuses in other countries through legal interventions, international and national pressure and solidarity actions.
Follow us:
Charlotte Phillips @CharCamille
Francesca Pizzutelli @Fran_AmnestyInt'l
James Lynch @jpmlynch
Sabrina Tucci @sabrinatucci
Sherif Elsayed-Ali @sherifea